"The real voyage of discovery consists not in seeking new landscapes, but in having new eyes" – Marcel Proust (1871-1922)
The Coronavirus pandemic has had a major impact on international travel in general and international tourism in particular. With the introduction of national lockdowns and travel restrictions, air and noise pollution have been reduced, and greenhouse gas emissions have declined by around 7 per cent. With the lifting of the restrictions on domestic travel, however, there has been a re-birth of domestic tourism and, in particular, the growth of the camper van, motor home or recreational vehicle (RV) tourism. The demand for motor homes has increased significantly since the pandemic, especially in Europe and among the millennials. In 2020, the market was valued at $47 billion and is now expected to rise to $71 billion by 2026, a compound annual growth rate (CAGR) of 7 per cent. The problem with this is that all of these vehicles burn fossil fuels and contribute significantly to atmospheric pollution, especially when stuck in traffic, as is so often the case at popular holiday destinations. Thus far from eliminating greenhouse gases, the growing use of the motor home is increasingly contributing to it.
However, in Holland, a group of 22 environmentally conscious students that are members of Solar Team Eindhoven, a research team at the Eindhoven University of Technology, have developed a self-sufficient solar-powered electric camping van with the support of their industrial partners (AnWB, Boerboom Hoot, Coolblue, Neways Electronics International, NXP, and Polyplastic). Known as the Stella Vita (star life), the students refer to it as a self-sustaining house on wheels as it is not technically a camper van owing to the fact that it is independent in terms of its energy supply. The house, which accommodates two people, is powered by solar panels on its roof, which, when unfolded, has 188 square feet(17.5 sq. metres) of panelling, equivalent to that of an average home. While not necessarily the most aesthetically pleasing design, the 23.62 foot (7.2 metres) home features a teardrop design in order to maximise the aerodynamics, interior space and roof surface, which accommodates the panels, though this is augmented by two partitions just below the roofline on both sides of the vehicle. When the roof is raised, these fold out, doubling the amount of solar panel space and harvesting energy for the vehicle's 60-kWh Li-ion battery bank.
As a consequence, it can travel some 454 miles (730 kilometres) on a sunny day at 75 miles (120 kilometres) per hour, while at night, or when there is no solar energy, it can cover 373 miles (600 kilometres). In addition, the panels provide sufficient energy for the occupants to take a shower, watch TV, charge a laptop and even cook a meal. It is possible to monitor the production and consumption of energy on the vehicle's entertainment and information system and, in the case of emergencies, to charge the battery on the grid.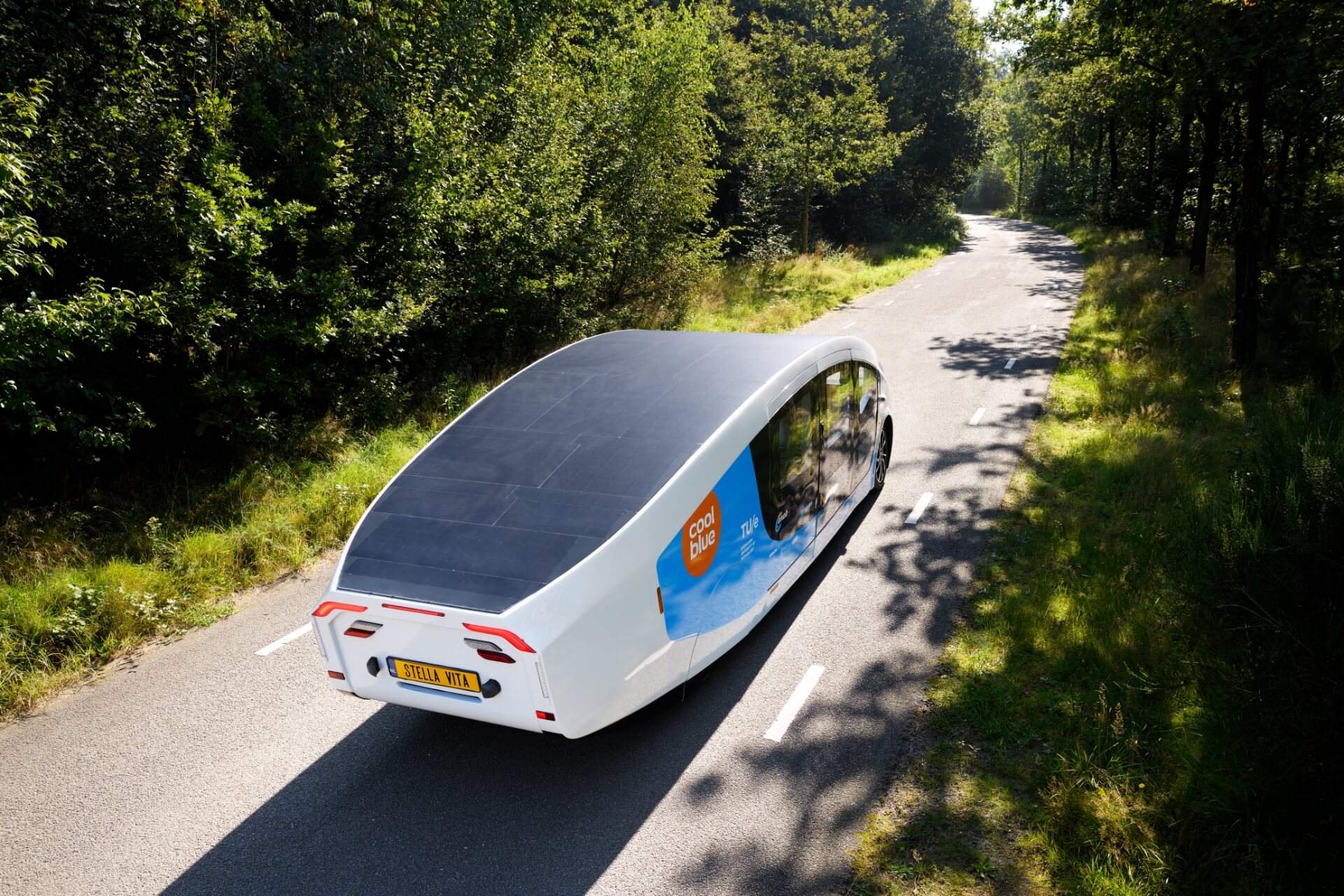 Recently the students have taken the Stella Vita on a 1864 mile (3000 kilometre) test drive to Southern Spain, stopping off in various cities on the way, including Paris, where they conducted tests on the vehicle in a Renault factory. However, given that the team's mission is to inspire society to accelerate the transition to a more sustainable future in both mobility and energy, their objective was also to demonstrate to as many people as possible what is already possible. When coupled with the development of electric trucks (Tevva Motors) and the invention of hydrogen-powered cars (Riversimple), it would seem that the days of the traditional fossil fuel-powered motor vehicle are numbered, as will be the carbon emissions it generates. That time cannot come too soon.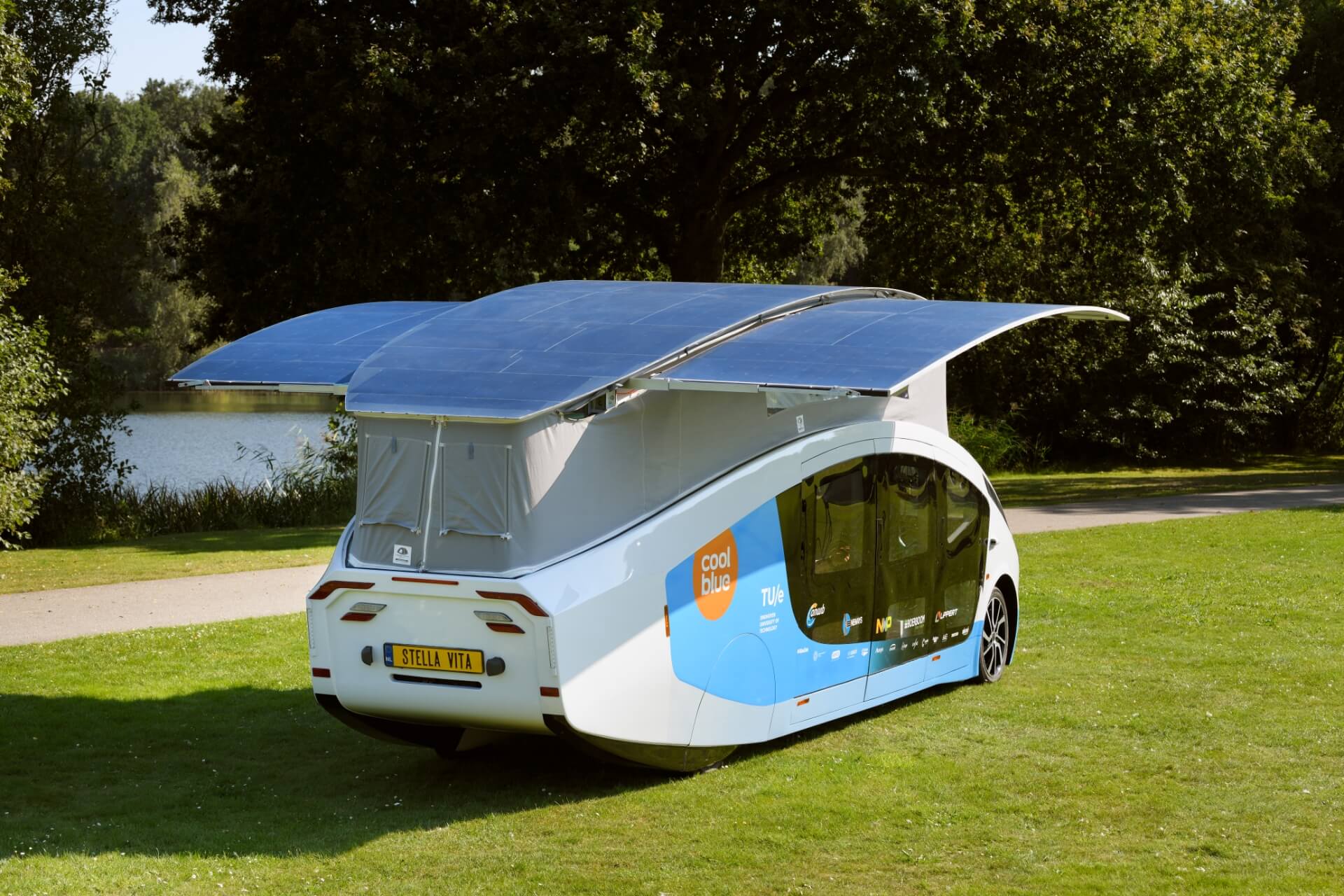 Already the team and its partners are supporting the UN's SDGs 7 (Affordable and Clean Energy), 9 (Innovation, Industry and Infrastructure), 12 (Responsible Consumption and Production),13 (Climate Action) and 17 (Partnerships for the Goals). Let us hope that their invention will soon support SDG 8 (Decent work and Economic Growth) at the very least.
Images: solarteameindhoven.nl
© Harmonious-Entrepreneurship.org (2021). Unauthorized use and/or duplication of this material without express and written permission from the author is strictly prohibited. Excerpts and links may be used, provided that full and clear credit is given to Harmonious-Entrepreneurship.org with appropriate and specific direction to the original content.
---